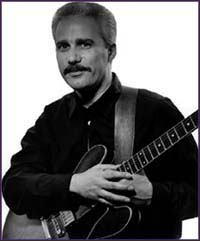 Steve Khan has been known as one of the finest contemporary jazz guitarist since'70s. In '70s, he joined The Brecker Brothers and released 3 of his own fusion album. In '80s, he lead his own quartet, Eyewitness. In 1998, he released the reunion album with Rob Mounsey that presented very unique sound.
Here is an interview with Steve via E-mail in December '98.

MH (Masato Hashi@CyberFusion)
Q.1 Recently you released the "You Are Here" album with Rob Mounsey about 10years after you had released "Local Color" album with Rob. Will you tell us the story why you made this album with Rob 10 years later again.How is this project different from your solo work?
Steve (Steve Khan)
Rob and I had been talking about doing a 'follow-up' to "LOCALCOLOR" for many years now and things just never seemed to come together.Finally in '97 the circumstances were right and we were able to allot the time and complete the work. Probably the biggest difference between"YOU ARE HERE" and any of my solo recordings is the presence of a keyboard. Basically I prefer to work/record without keyboards, but I very much enjoy collaborating with Rob and these recordings have been very special opportunities to explore other interests of mine which would include my work on acoustic guitars.
[Note: Please visit Steve's web site and look for the "Khan/Mounsey Saga" which is an essay he wrote about the making of "YOUARE HERE"]
MH
Q.2 Will you introduce percussionist Marc Quiñones who played in "You Are Here" to us?
Steve
Marc Quiñones and I have been working together on a variety of projects for the past several years. Before our friendship and musical relationship began, I knew of Marc because of his incredible catalog of work with all the greatest singers in contemporary Salsa. Marc has been part of recordings for: Oscar D'Leon; Celia Cruz; Tito Puente; Gilberto Santa Rosa; Jose "El Canario" Alberto; Tito Nieves; Tony Vega; La India; Marc Anthony; Cheo Feliciano and countless others. Beyond these credits, from our work together I have learned that Marc is fearless and not constricted by the boundaries of genre....Marc is also an integral part of the Allman Bros. Band each summer. He is one of my favorite musicians on ANY instrument. His talents are unlimited. He's creative and shows up and plays tough....which I love. Our first project together was my interpretation of "Don't Worry Baby"(No Te Preocupes Nena") for "WOULDN'T IT BE NICE"(a tribute to Brian Wilson)...since then, Marc performed on my CD, "GOT MY MENTAL" and, important tracks I co-wrote for Bakithi Kumalo's CD, "SAN BONAN." Marc has just got a wicked groove and I'm really pleased that we've become good friends along the way.
MH
Q.3 Will you tell us about your other recent activities?
Steve
Just this past August, I was back in Japan for the 1st time in about 6-7 years. Too long an absence for me! I played the Blue Notes in Tokyo and Fukuoka with the "Tribute to Cal Tjader Group" which also featured Dave Samuels and Dave Valentin. I have always been a HUGE fan of Cal Tjader's and his recording "SOUL BURST" changed my life. Chick Corea's performances on that LP had a tremendous influence on how I now play the guitar, especially chordally. In addition to preparations for live work and future recording, one of my biggest activities during '98 was getting my FIRST computer ever! So, while trying to learn the basics, through friends and e-mail I ended-up getting together with a wonderful musician and website builder from Houston, Texas(Blaine Fallis) and for the past several months we have been putting the final touches on the basic layout for my website. I feel SO fortunate that I got hooked-up with Blaine because the feedback from all over the world on the website is so fantastic. We just have a couple of more significant pages to post and then the basic design phase is done. Coming very soon is the Discography which will contain my personal recollections for each of the 16 recordings.
MH
Q.4 When I heard your guitar playing for the first time was Jun Fukamachi's New York All-Stars live in Japan in 1978. Will you tell us your memory of this band?
Steve
Well, this was a VERY long time ago. I don't remember very much about it. But, I do remember that when things like this get TOO BIG....it's really NOT very much musical fun. Perhaps it's more fun for the audience to be able to see so many well-known players at once but for us, it tends to have a circus-like atmosphere which is NOT condusive to great music. In this case, we had TOO MANY chordal instruments: Jun; Richard Tee; Mike Mainieri and me...just too much....and probably perspectives too far apart. I don't believe that this was too successful musically....however, to be able to play and tour with some of my closest friends, personally and musically, well, this is always nice.
MH
Q.5 In those years and on your first 3 albums, your guitar sound included more distortion. But after Eyewitness band up until now, your sound has been very clean and non-distortion. Is there any reason you changed your guitar sound and style?
Steve
The simple answer is that around 1980, I just got sick of the way I sounded and the way I was approaching 'making music' with others. I just decided to go back to the most simple things...the things which initially inspired me to play. Eyewitness is the most important band I've ever been a part. It is likely to ALWAYS be that. It truly helped me find myself, find my voice. I love playing with Anthony, Manolo.... and whether it's been Steve Jordan, Dave Weckl, or Dennis Chambers.... well, how could anyone help but LOVE making music with players and friends like that? I've been very, VERY lucky! Back to distortion, sometimes at a soundcheck, I just break it out and Dennis Chambers always looks at me and says, "Now why the hell don't you do some of THAT on the gig?" I always look at him and say that I don't know....it doesn't 'seem' to 'fit' with what we do....Of course, I could be wrong about that!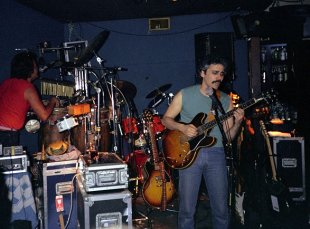 Eyewitness at The Seventh Avenue South, NYC in '84

MH
Q.6 What do you think about Folon's drawing titled "Steve Khan"? Which Folon's picture do you like best?
Steve
The funniest thing about Folon's beautiful guitar watercolor titled "Steve Khan" is that, after ALL these years, he still spells my last name wrong! He always spells it: K-A-H-N.....so, there it is on that beautiful poster....and my name is incorrect. No matter what, it was an incredible honor and tremendous surprise as I had NO idea that he had done such a painting! Truly, one of the greatest thrills of my life. I think of all the covers Folon has done for me, my favorite is probably still "THE BLUE MAN." But, when I look through his books there are just SO many I like....I can't choose one!
MH
Q.7 Who is your favorite guitarist and composer?
Steve
This is a VERY difficult question! I like and admire MANY guitarists even though I really don't listen to much guitar music anymore. The four most influential players in my early development were Wes Montgomery; Kenny Burrell; Grant Green; and Jim Hall. If you look at some of the 'standards' I've covered on my recordings it's pretty obvious which composers I like: Thelonious Monk; Wayne Shorter; Ornette Coleman; Lee Morgan; Joe Henderson; Randy Brecker; Joe Zawinul; Clare Fischer....just too many to mention.
[Note: for a complete list of Steve's favorite players, again visit the Steve Khan website and go to the page titled: "STEVE RECOMMENDS"]
MH
Q.8 Song sequences of Eyewitness album are different in the CD and the LP. Why?
Steve
In truth, I think the only difference between an LP and CD is "EYEWITNESS." The reason is simple....on further thought, I just came to believe that "Where's Mumphrey?" was more representative of what we were about as group than "Auxiliary Police"....so, when the CD format evolved I took the opportunity to resequence. This recording remains one of my absolute favorites.....I am frankly stunned at the influence younger players tell me it had on them. I'm always flattered when someone tells me this....especially when they're from outside the United States.
MH
Q.9 What do you think about Internet?
Steve
Again, just ONE year ago, I could not have answered this question! The Internet has SO MUCH POTENTIAL to do good. When I view the 'Guestbook' of any of my colleagues, or now my own....it is just such a thrill to see how far the 'net' reaches....people from ALL OVER THE WORLD can now 'talk' with the musicians they listen to....it's very exciting and gives one such a nice feeling about the power of music and art. I feel SO STUPID that I didn't embark down this path sooner. But, this is an example of one of my WORST qualities....I'm too damn stubborn and too slow to change about some things. But, here I am....website and all. It's a miracle!
MH
Q.10 Please tell us your plan for 1999. Do you have plan to visit Japan?
Steve
Right now, there are no specific plans for '99. There is some talk at the moment of my doing another recording with Anthony Jackson, Dennis Chamber and perhaps Manolo; Marc Quiñones; and Bobby Allende. I'm hoping that this will become a reality, but NOTHING is definite. I have also gotten SO MUCH positive feedback about the recording with Patitucci and DeJohnette("GOT MY MENTAL") that I would love to be allowed to pursue that as well. We actually have a 13-minute Thelonious Monk Medley of "Light Blue"/"Monk's Dream" which was too long to fit on the CD, and actually it was never even mixed. So, I'm hoping we get a chance to continue. I love travelling to Japan and playing there. Again, at present there is no offer to return.....I would LOVE to come back and perform with Anthony, Dennis, and Marc Quiñones....We'll see what happens.
MH
Thank you very much for participating in our interview.